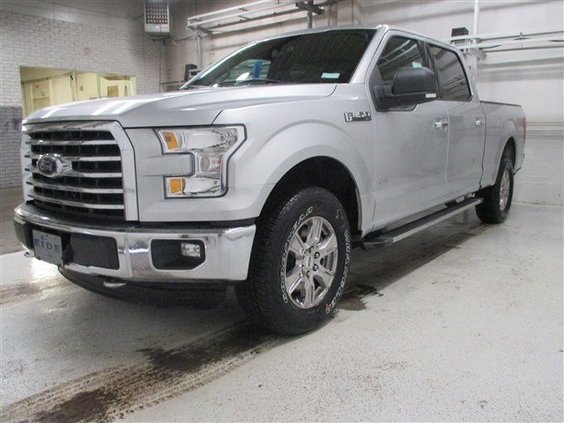 Every 42 seconds, a brand new F-150 is put to work. That sort of popularity doesn't come from a shiny coat of paint or an agressive chrome grille. It comes from hard-working North Dakotans who appreciate equally hard-working trucks.
So let's put the golden bow ties and the big-horned sheep aside for a minute and take a closer look at America's #1 selling truck right here in Bismarck.
All-New Design, Inside and Out
The most notable change for the 2015 F-150 model year is the 700 lb. increase in payload, thanks to the use of military-grade aluminum instead of the less-efficient traditional steel body panels.
Besides the increase in overall payload capacity, the weight reduction results in a more agile driving feel and much better fuel economy, which is great for those of us who spend a lot of time on I-94 or Highway 83.
But the new F-150 isn't just about great looks. It's also about work, and the interior of this truck is thoughtfully organized with a bunch of comfort, convenience and safety features.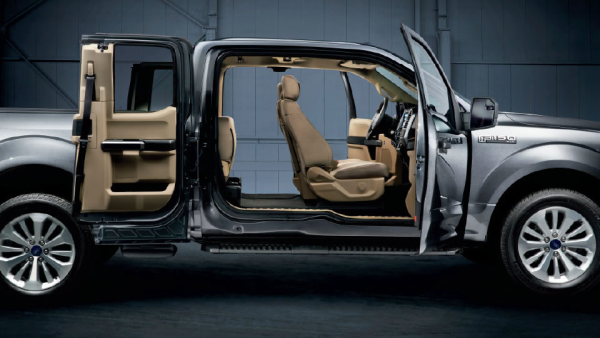 Wide open.
Especially here in North Dakota, people spend several hours a day in their trucks. That's why Ford has redefined the cab to help you work smarter and get more work done.
The SuperCab 2015 F-150 SuperCab has 170-degree swing-out rear doors to make it easier for you to load and unload cargo and people.
In addition, the new F-150 has two inches more side-to-side width, making it a more comfortable fit for your luggage and passengers.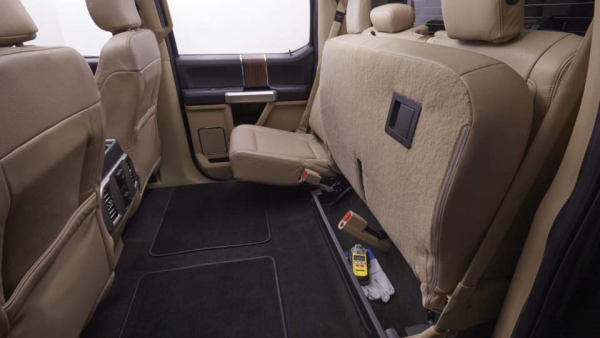 The all-new F-150 SuperCab and SuperCrew have a rear seating area with a fully flat load floor with more under-seat storage than previous models.
Nice views from every angle.
When you're maneuvering in tight driveways or backing up your trailer, the new F-150 will have you covered with a class-exclusive 360-degree camera with split-view display. It looks great on the available 8-inch touch screen display on the center console. This system lets you see all sides of the truck, including a hitch view with helpful line-of-sight guide.
In addition to the dynamic center console display, the new F-150 has an 8-inch LCD Productivity Screen behind the steering wheel which shows useful info such as current MPG, towing data and gauges which can all be configured and customized in F-150 LARIAT, King Ranch® and Platinum.
Powerfully convenient.
Whether it's a floodlight, a power tool or just your iPhone, the F-150 has you covered with an available 110-volt/400-watt AC plug-in outlet on the center stack. A second outlet is included in F-150 models equipped with the flow-through center console, on the rear side of the console.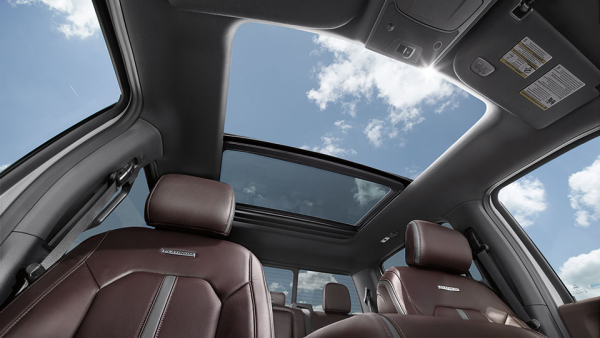 Let the North Dakota sun (or moon) shine in.
The rear window of the 2015 F-150 features a seamless glass design with a power sliding center pane that seals tightly when closed, and lets you use the defroster even when open. It also improves visiblity, reduces cab noise and keeps the elements outside.
Look up. An all-new twin-panel moonroof glides over both the front and rear seats of the 2015 F-150 SuperCrew. The front panel can slide open or tilt up at the touch of the button on the overhead console.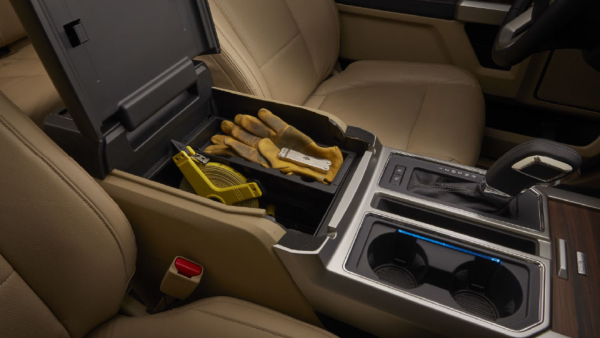 Store more. Do more.
Anyone who sits in a 2015 F-150 for sale in Bismarck will notice something: space. In addition to wider seat area, the new model also has more storage in the center console, dash, side panels and floor area in the back seat. It's just one more benefit of driving a truck that is designed to meet the demands of hard-working people.
Experience a 2015 Ford F-150 right today at Eide Ford in Bismarck.