Eide Ford takes pride in employing great people who, in turn, take pride in serving our customers. This month, we're recognizing three employees for their outstanding customer service.
---
Deno Muller
2014 Salesperson of the Year
Time with Eide Ford: 20 years
What he enjoys about working at Eide Ford: "We try our hardedst to keep our customers satisfied. We carry a large selection of quality vehicles and provide a high level of service to meet and exceed customers' expectations."
Why he would buy a vehicle from Eide Ford: "As a salesperson, I work hard to keep things in perspectivy and build trust with my clients and treat them the way that I would want to be treated. Eide Ford works hard to go the extra mile, and our customers come back to us again and again."
What he drives: 2013 Ford F-150
---
Jackie Bius
January 2015 Employee of the Month
Job Title: Diesel and Fleet Repair Manager
Time with Eide Ford: 2 years
What she likes about working at Eide Ford: "I love the people and the policies that our company has put in place. We're built for success."
Why she would get her truck repaired at Eide Ford's Diesel and Fleet Shop: "We know that time is money for any business. We are very well organized and very efficient at what we do. We work hard to make the necessary maintenance or repairs to get your truck back on the road in a timely manner."
What she drives: 2011 Ford Fusion
---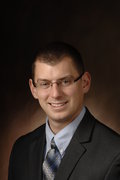 Adam Griffith
January 2015 Salesperson of the Month
Time with Eide Ford: 5.5 years
What he likes about working at Eide Ford: "I enjoy having the opportunity to build and grow relationships with our customers, and it's a great feeling when they come back as repeat customers."
Why he would buy a vehicle from Eide Ford: "Our team is made of great people. Ford makes quality, reliable products with some great technology, and we're happy to represent Ford here in Bismarck."
What he drives: A 2013 Ford Edge and a 2007 GMC Sierra (both purchased at Eide Ford).
---
Have you worked with Deno, Jackie or Adam? Leave your comments and questions below!